Famed for its important Roman past, Chester is a particularly pretty city loated close to the Welsh border and lying on the River Dee. Whilst a relatively small city, it is packed full of interesting things to see and experience which makes it an ideal location for a summer visit. There are many Roman sights that should be explored along with a variety of other attractions that should be on your must-do list.
City Walls
Get an alternative perspective on Chester by enjoying the two mile circuit along the City Walls – the stone walls which surround the historic city centre. The City Walls were originally constructed around AD70 by the Romans and were subject to substantial alterations during the following centuries. There current form however dates back to around 1200. As well as the views over Chester, look out for the Eastgate which houses a clock which was built for Queen Victoria's 1897 Diamond Jubilee.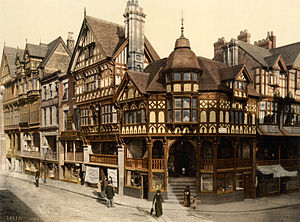 Chester Roman Amphitheatre
Chester is world famous for its Roman history and at the Amphitheatre you will be able to step into the past and experience a small taste of what life was like in Roman times. Chester's Amphitheatre was first discovered in 1929 when a room was being constructed underneath Dee House. A large curved wall was uncovered which led to the discovery of a Roman Amphitheatre which once sat 7000 spectators. The UK's largest Roman Amphitheatre has undergone a number of excavations.
Chester Zoo
One of the largest zoos in the UK, Chester Zoo is located close to the city centre and makes an excellent choice for either a full or half day out. Set in over 100 acres, the zoo is home to over 7000 animals and 400 different species.
The Rows
While enjoying a spot of shopping in Chester city centre, take some time to explore the Rows. An impressive mix of Victorian and Tudor buildings, the Rows are a series of double layer galleried arcades that spread out from the central Cross.
Chester Cathedral
The spectacular looking Chester Cathedral is well worth a visit. It was originally a Benedictine Abbey constructed on the remains of a Saxon church dedicated to the city's patron saint, St Werburgh. The Cathedral was given a significant Victorian face lift, however the 12th century cloister and surrounding buildings remain unaltered from the building's monastic years. This piece of Victoria art can not be missed, you'll be able to find top notch hotels around the city centre by checking out expedia.co.uk
River Cruises and Boat Hire
A pleasurable cruise along the River Dee is an excellent way to enjoy time in the city. Enjoy an hour or two of leisurely viewing Chester from the river as you sit back and take in the views.
If you are feeling more energetic, there are boat hire facilities at various locations along the river. You will be able to stop and go as you please as you make your way by pedal, oar or engine along the Dee.
What are you waiting for?
Chester makes for a wonderful location for a summer visit with sights and activities suitable for all ages. Take in the charm of this historic city by wandering around the City Walls and central shopping area full of historic Victorian and Tudor buildings or take time out to visit one of its many attractions.