With its laidback lifestyle, great weather and indoor/outdoor spaces, Perth invites lovers of the good life to its shores. In recent years, it has undergone something of a food revolution: with coffee culture booming, wine connoisseurs popping up everywhere and some of the hottest Australian food talent flocking west to experiment, Perth is now an established hub for food and drink in Australia.
With access to the finest local produce, restaurants and bars pride themselves on excellent service, imaginative dishes and unique drinks. Whatever the occasion, here is your guide to the city on the Swan River.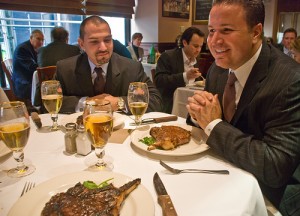 Business lunch
Few places say "power lunch" better than Rockpool Bar and Grill. Fine dining meets upmarket steakhouse; it's the kind of place you could picture Don Draper and his Mad Men cohorts downing vodkas and carving up steaks.
For a less macho alternative, The Greenhouse is a high-spec, environmentally-friendly restaurant that features recycled furniture and jam jar glasses.
Romantic dinner
With so many options for the perfect romantic dinner when you're in Perth dating, decisions will probably be difficult to make. Satsuki will take care of your Asian-style fine dining needs, while Dear Friends has an earthier, more local feel to it.
Modern Italian lovers will find their heart's content at Divido, while Jackson's is a long-time favourite for its formal dining and fabled wine cellar. For a quiet nightcap, try Must wine bar, and you won't be disappointed.
 Brunch
For those dating Australia boasts many an opportunity for meeting up – drinks, dinners, activities – but wherever you are, one of the most laidback and typically Australian ways to meet someone is over brunch.
For the uninitiated, it's halfway between breakfast and lunch, which means from about 10am until midday. For a gorgeous East Perth brunch location, try Toast. It's by the water, it's open 7 days and the food is consistently top notch. Boucla, Epic and Zekka are also highly recommended for great coffee and distinctive vibes.
Birthday drinks
With boutique and international beers, clever cocktails and a huge liquor cabinet, try Helvetica. It's a hot ticket right now, with nibbles available and knowledgeable bar staff.
Don't let the graffiti-covered exterior mislead you, this location is all class. Defectors at Mt Lawley is a lush option for those with an adventurous streak; their cocktails are inventive and the decor decadent.
Family-friendly dinner
Finding a restaurant that make families welcome can sometimes be a nightmare. Perth's Outback Jack's steakhouse is completely kitted out for kids, with a games room and everything. The grown-ups can choose their own cuts of meat, and peruse the temperature-controlled wine room, in the adult version of the games room.
With a few locations around the city, it's going to be a winner for all involved. If you've spent a day on the beach at Fremantle, try Salt on the Beach, which features stunning views and a kids' playground.