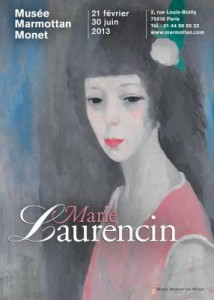 So Marie Laurencin has finally come back to Paris after spending the last 30 years in Nagano, posing for Japanese tourists in their own backyard where, I suppose, they'd just be Japanese.
If you haven't heard of Laurencin don't feel bad but she was a contemporary and, in her day, a peer of Picasso and Braque (if you haven't heard of them you can go right ahead and feel bad) but in 1980 just about all of her best work was bought in a single auction by a Japanese obsessive and whisked away to a purpose-built penitentiary in the northern reaches of Japan.
And now they're back. Or at any rate a liberal selection of the best examples of Laurencin's uniquely sapphist take on cubism is on loan to the Marmottan Museum in Paris from now until July 2013 and everyone needs to take this fleeting opportunity to see them apart, of course, from Japanese tourists who should content themselves with having their picture taken next to Déjeuner sur l'Herbe at the Orsay.
The show at the Marmottan is exhaustive — there are some teaser pieces on the ground floor and the basement is a chronological overview of the three stages of Laurencin; quasi-realistic and slightly grotesque portraiture to structured and sexually-charged cubism to billowy and unfocused decline, this last one possibly related to her failing eyesight.
So you've got one good reason to finally visit poor, underappreciated Marmottan and that's to appreciate poor, underappreciated Marie Laurencin but that's not why you need to go. You need to go to observe the subtle psychological game being played out by the curators.
There are some 99 pieces by Marie Laurencin, mostly portraits and set pieces with horses or dogs or women or horses and dogs and women and, with the exception of some striking cubist likenesses of Picasso and her doubtless eccentric romantic passion poet Guillaume Apollinaire, no men. Which is irrelevant to the point but there are a lot of paintings and the Marmottan is not the Louvre and hence has had to shift about half its permanent collection to the attic or the trunks of their cars or perhaps both, which means that the normally lush collection of Monet's water lily studies has been reduced to one and the very painting that launched the most revolutionary and enduring movement in modern art history has been hidden, like the purloined letter, in plain sight.
There's a very categorical corridor separating the original hunting lodge of the Marmottan from its newer, starker and wholly more pretentious section which includes a basement (where Monet's lilies live when they're not hidden away to accommodate Marie Laurencin). The corridor usually hosts some incongruous furniture and a mirror which function mainly to help the aged delineate the stairs and elevator and now that Monet's brilliant Soleil Levant has been moved here too people are just walking right by without giving it a second glance.
I suppose it's possible that this is accidental or that when I was last at Marmottan every last visitor was a blinkered fanatic for the work of Marie Laurencin and wouldn't have given the single most important painting at Marmottan a moment's attention if it had been on fire, but I think the real explanation is that its placement among the embarrassing bequeathments has the amusing psychological effect of subliminally suggesting that Soleil Levant is just a picture of a boat in some unrecognisable harbour around sunrise or, possibly, sunset.
It's always true that the Marmottan, as one of Paris' most bafflingly under-visited museums, offers an abundance of quality time with some singular masterpieces, like Caillebotte's Rainy Day and the above-mentioned water lilies and Soleil Levant. But just now you can have the novelty of being alone with Soleil Levant in a crowd of people who may briefly wonder why you're staring at some random furniture when there's all this Laurencin to be had.
Obviously do both. The ignominious dismissal of the progenitor of impressionism is no reason to resent the beautiful and compelling and genuinely revolutionary work of one of the rare female contributors to early modernism. And for a brief slice of time there's a unique opportunity presented by this rare matrix of events: Marie Laurencin has come home, the Marmottan is so richly endowed that it has to hide its greatest treasures, Soleil Levant has been discarded in a corner and now, you know about it.