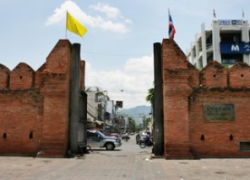 Chiang Mai (translated as "New Walled City") in the north of Thailand is still a major travel and commerce hub. Since ancient times, with the silk road through Myanmar (Burma) and Laos passing nearby, the city is thriving and grew from having a population of 175,000 to one of the largest cities in Thailand. But, despite of this, Chiang Mai has retained the traditional charm of a typical small Thai town.
Surrounded by mountains, the edges of the great Himalayan mountain range, and the largest natural forest in Thailand, Chiang Mai has always been an attraction for people seeking the unusual and the exotic flair of a different culture and a lifestyle. While the even though beautiful and picturesque sandy beaches in Thailand's south might become a little boring after a while, the expat community in the northern city of Chiang Mai stayed.
Its climate, the cool season lasts from November to February, is more enjoyable than central and southern Thailand. The rainy season lasts from June to October and is lighter in Chiang Mai compared to other places, while the hot season starts in March and ends in June. Should it get too hot, in Chiang Mai there is still the option to find relief up in the mountains.
Chiang Mai – a place to live and to work
Most visitors stay in Chiang Mai's Old City, though there is plenty of affordable accommodation available everywhere around the city. Discounts for a long-term stay are easy to negotiate. The budget places are simple but clean. Modern, fully-equipped apartments are also available for cheap leases, however you might need to commit for a couple of months.
Foreign locals?
The Expat community in Chiang Mai has grown over decades to a community, supporting and enjoying each other. In contrary to other places in Thailand, Chiang Mai has managed to keep a friendly neighborhood, with foreigners and locals living together. A number of companies, serving international customers has settled in Chiang Mai, employing foreigners. If you plan a six-month stay – or longer- you might be lucky enough to get hired, securing you a working permit, being able to combine an almost typical western daytime job with the tranquil Asian lifestyle in the probably most laid-back city in Thailand.
What else to do?
Apart from the vast number of rather typical touristy attractions to visit – the monasteries and temples, river cruises, national parks and museums, there are many more highlights to pass some time at in Chiang Mai.
Learning Thai
The American University Alumni offers six-week Thai courses, making you fit for some small talk and basic reading and writing. At Chiang Mai University you can get you on a one-year certificate program in Thai as a foreign language.
Typical Thai classes
How about returning home as a trained Thai Boxer? Lessons in Thai Boxing are offered in English as well, as there are the possibly less adrenaline inducing cooking classes on Thai cuisine.
In case you are done with any lifestyle whatsoever at arrival, you can also retreat yourself in a meditation course for a couple of months.
Rice or (no) Rice?
You are getting hungry? Nothing to worry about that either. Apart from the delicious, (though very spicy) Thai Food, you will find a vast range of international cuisine in Chiang Mai. You can certainly find some good non-rice dishes and meet some expats at the German "Bierstube", the dinosaur in Chiang Mai's expat scene, or check out a middle eastern dish at the popular "Jerusalem Falafel". Their owners? Expats who chose to stay in Chiang Mai – many years ago.
Getting around
The easy to navigate place, most residents here drive scooters, has a modern bus terminal, serving travels to Myanmar and Laos for a visa renewal or sightseeing and of course to Thailand's south. The 12 to 15 hours journey to Bangkok can be accomplished by Bus or Train. Connections to and from Bangkok are available multiple times a day, as there are more convenient flights between Bangkok and Chiang Mai International Airport.
Chiang Mai – a place to stay
Its pleasant climate, and the beautiful setting amid mountains and jungle, makes Chiang Mai the perfect place for a long-term stay. Together with the living and thriving expat community it provides a lifestyle, centered and balanced between the Asian and Western culture.